There really is nothing quite like glorious, glowing, rich, radiant GOLD.
Gold jewellery has the power to bring out the warmth in all skin tones and always adds an element of luxury to any outfit. There's no wonder why gold accessories are continuously on trend and an essential component to a well-curated personal jewellery collection!
With raw gold prices soaring through the roof recently, coupled with a trend-driven high demand for gold jewellery and accessories, designers around the world have turned towards plated jewels for a more affordable means to bring high quality gold jewellery to their customers.
When shopping for gold plated jewellery, it is crucial to understand that
ALL GOLD PLATING IS NOT CREATED EQUAL
When it comes to gold plating... the thickness of gold is everything.
All Leander D'Ambrosia gold plated jewellery is created with the highest industry standards possible.
Our pieces are plated using 3 microns of 18kt yellow gold over bronze and are sealed with an added layer of clear, anti-tarnish protection on top. 3 micron gold plating means that the thickest possible layer of solid gold is deposited upon the jewellery.
Click here to watch Leander explain on the video version
Shop Leander D'Ambrosia 3 micron 18k gold plated
Currents Cuff Bracelet here
Drift Cuff Bracelet here
Ridge Cuff Bracelet here
There is a limit to how thick a piece of jewellery can actually be plated, and we are proud to push our plating to the absolute limit to ensure we use the maximum thickness of gold in our high quality pieces. Our expert team of metallurgists who dedicate their days to the science of plating jewellery use x-ray technology to ensure that each batch meets our high standards.
Around the world, gold plated jewellery is made with a large, unregulated range of plating standards and qualities. Unfortunately there is no gold standard, so to speak, when it comes to labeling, hallmarking and marketing gold plated jewellery like there is with solid gold jewellery. This makes it almost impossible for the customer to really know that they are buying when they are shopping for gold plated jewellery.
It is always important to purchase jewellery from a designer that you trust, and who is dedicated to caring for their customers before, during and after their purchase.
If the plating quality isn't clearly stated on the company's website or packaging, a good rule of thumb is to always ask. Here at Leander D'Ambrosia, customer delight is a pillar of our brand ethos and we are wholeheartedly committed to looking after our customers and their Leander D'Ambrosia jewellery for life.
Please see our lifetime guarantee commitment to our valued customers here. But don't rely on our word alone, read what other customers have said about our customer service here.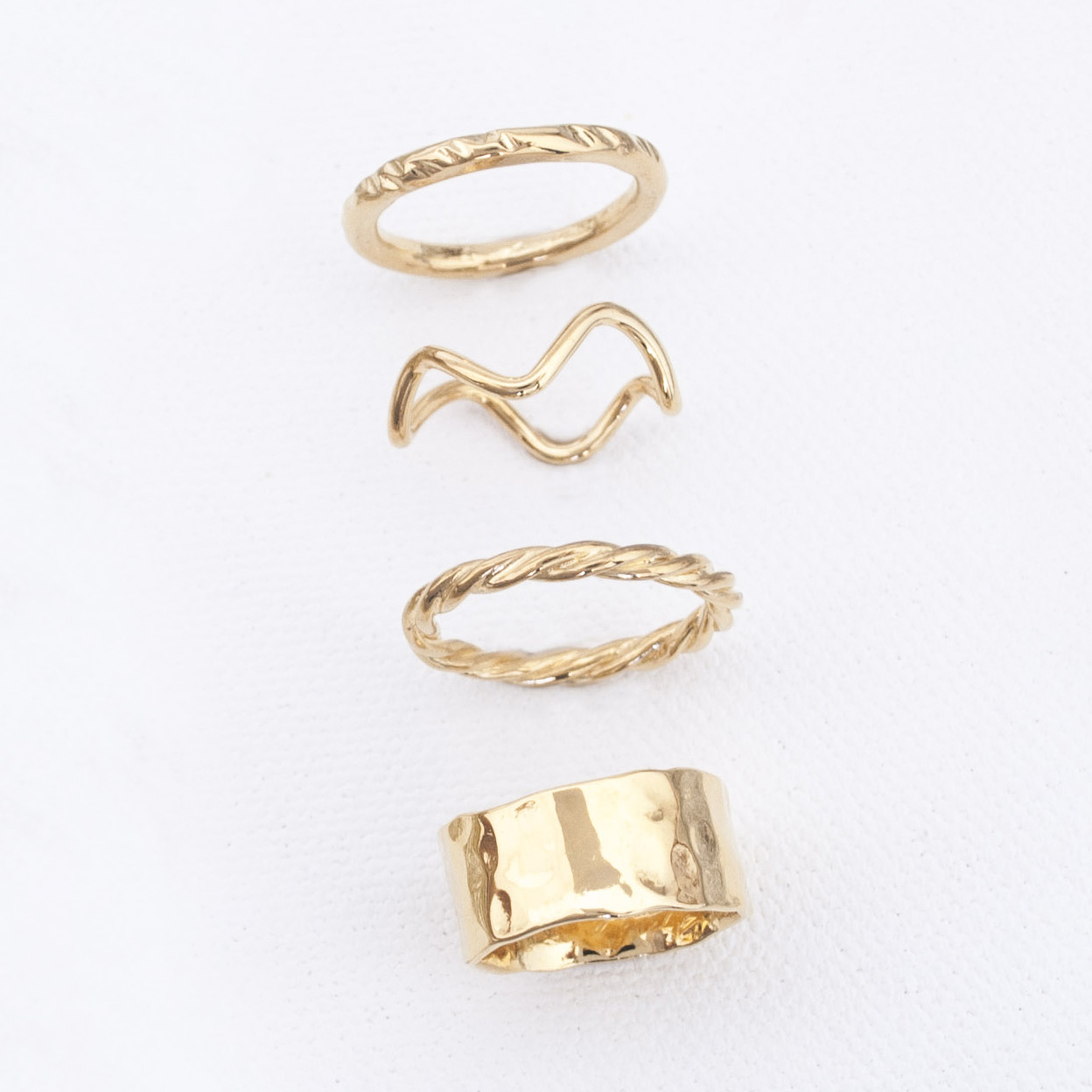 Shop Leander D'Ambrosia 3 micron 18k gold plated
Hammered Stacking Ring here
Petite Wave Stacking Ring here
Rope Ring here
Wide Hammered Ring here
Other cheap, mass produced, lower-end gold plated jewellery out there is made by simply applying a 'flash' coating with miniscule amounts of real gold over a base metal piece of jewellery. In reality, this flash plating or 'gold dipped' method of plating really only serves to look great on the jewellery store shelf and only provides a temporary luxury look. This inferior gold dipped jewellery will fade quickly, revealing the dull base metals underneath in no time.
This is due to 2 reasons:
1. Our skin is naturally abrasive, so when we wear jewellery, our skin serves as a super fine sandpaper that slowly wears away at our jewellery. Rings suffer the most abrasion, since our fingers are constantly rubbing on the ring's surface. Necklaces only suffer a very mild abrasion over time, and usually only the reverse side of the necklace that touches the skin is affected. Earrings experience virtually no abrasion, since they are fairly stationary on our ears at all times. Unlike Leander D'Ambrosia jewellery, other low quality gold dipped jewellery doesn't hold up well against heavy wear and tear.
2. A super light gold plating coating does not offer a thick enough barrier to protect the base metal underneath from the natural, tarnishing-causing elements in our environment (such as water, humidity, salt, acids and even air pollution). When the base metal underneath the plating is exposed to these elements, it will begin to tarnish underneath the plating and eventually rise to the surface of the jewellery, leaving discolouration in its wake.
Our ultra thick 3 micron gold plating is the next best option out there to wearing solid gold jewellery.
However it is always important to maintain a good care routine for your plated jewellery.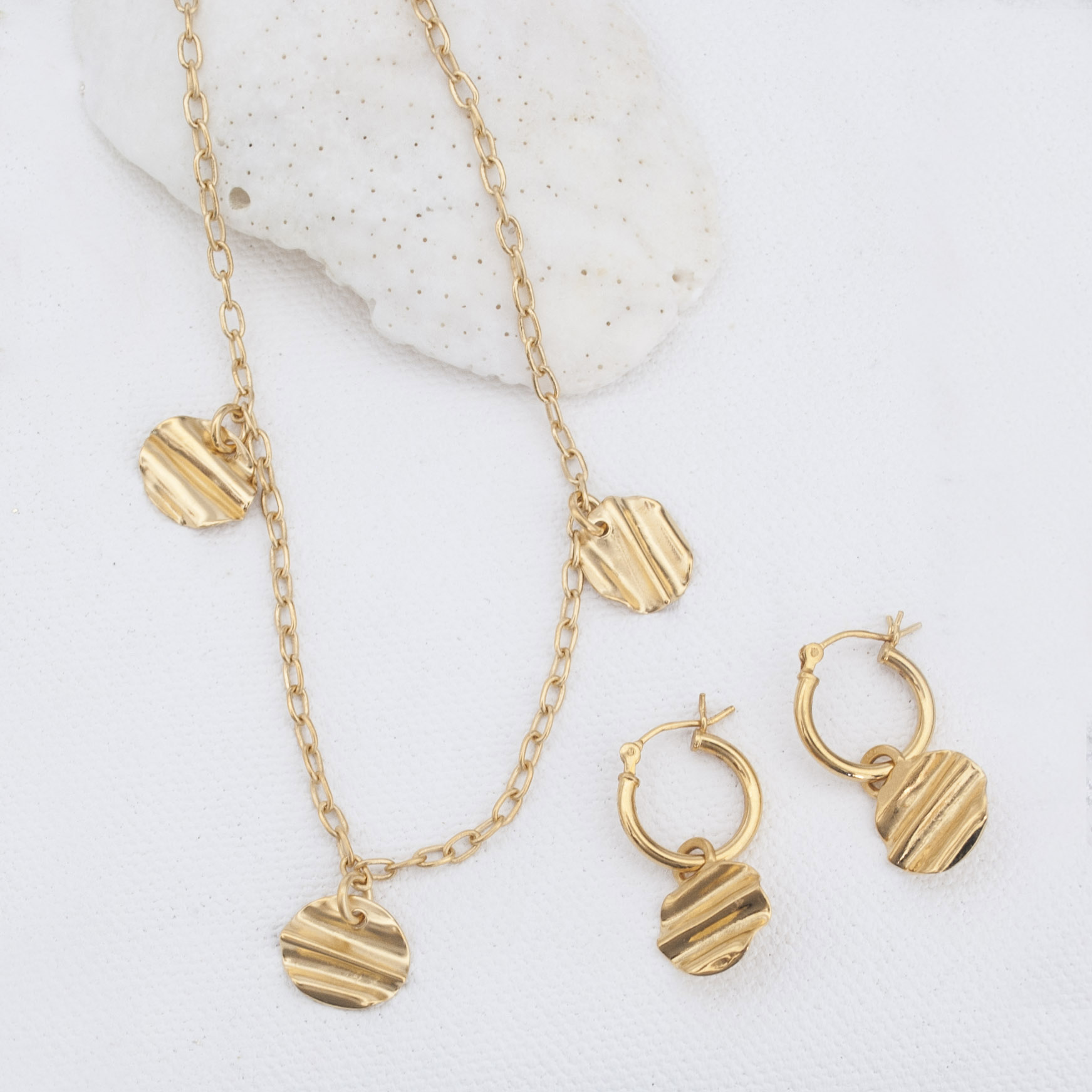 Shop Leander D'Ambrosia 3 micron 18k gold plated
Coin Necklace here
Small Clip Down Hoops with Charms here
Before launching our very first 3 micron 18k gold plated jewellery collection in 2020, we conducted a lot of research, sampling and heavy testing 'in the wild' so that we could be certain that we are always bringing the highest quality plated jewellery to our treasured customers.
Some would say that 'testing' jewellery is not the worst job in the world!
Leander -a self-confessed people-pleaser - says she 'wouldn't be able to sleep at night knowing that we weren't putting the best quality out there into the world'. Simply put, in terms of value, our 3 micron 18k gold plated jewellery is the next best thing to purchasing solid gold jewellery... at a fraction of the cost!
If you are looking for high quality gold plated rings, bracelets and necklaces at an affordable price point, with a company that is dedicated to serving you for life, Leander D'Ambrosia is the perfect place to shop gorgeous jewellery.
If you have any further questions, we are always excited to chat.
Please email us at wearables@leanderdambrosia.com or call us toll free (from US & Canada) at 1800-730-5481
Watch Leander explain on the YouTube video version here